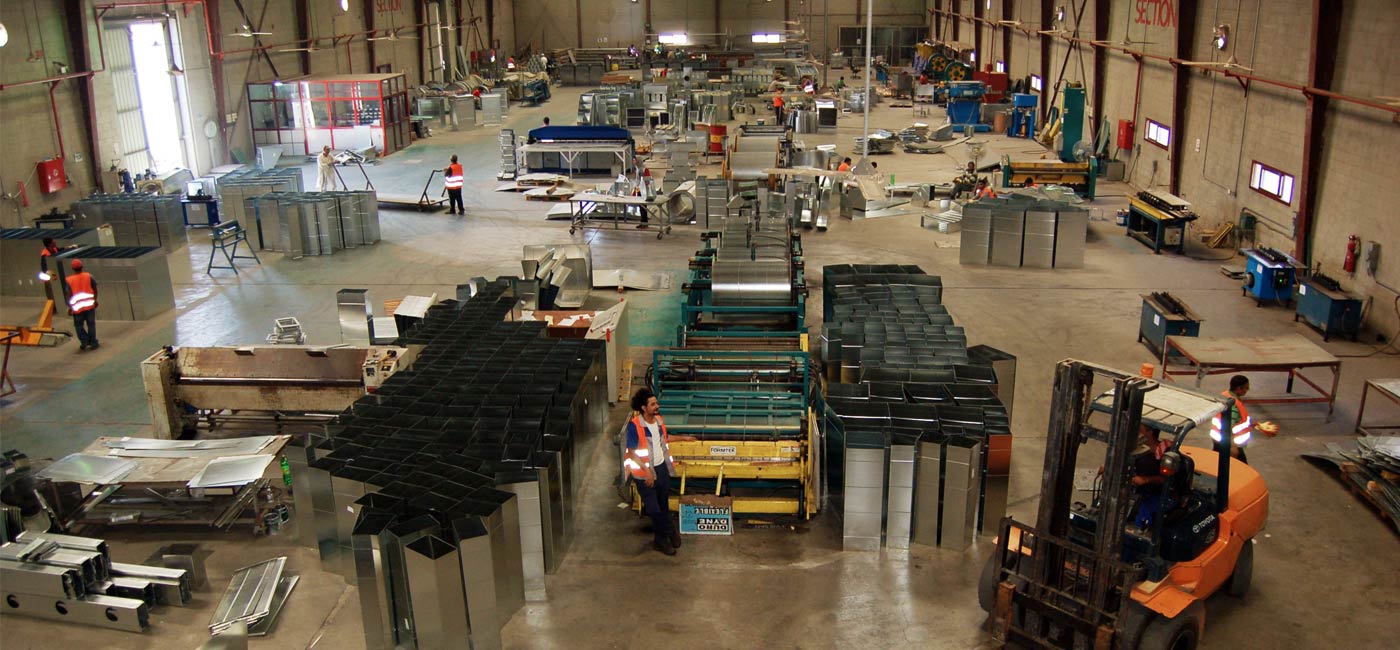 Our factory
We specialize in fabricating rectangular, square to rounds, elbows or any other required HVAC ductwork. It can be used for all Commercial, Industrial, Residential, Private and Institutional HVAC Projects. No job is too big or too small for Cube Metal Industries.  All of our ductwork is built to the latest SMACNA standards. Our products have been installed throughout the kingdom and can be fabricated for the full range of HVAC systems.
With expertise and experience in manufacturing air ducts, fittings, dampers and other HVAC ductworks; our product line aims at giving us the ability to continuously improve and develop which makes our ducting have high quality and in turn brings a good reputation.
Our state of the art Vulcan Plasma Cutter will lay out your duct from #26 through #18 gauge metal. It is designed to use a plasma cutting torch to cut out geometrical shapes and parametrically programmed HVAC (Duct Work) fittings. The fittings are programmed in the Technical office using Vulcan 6XP software; the parts are then nested on a sheet of metal to minimize material waste and are then cut out at high speed with the plasma torch.
A fully automated, modular duct manufacturing system – PRO -FABRIDUCT Line integrates eighteen processes into one automated duct fabricating line, and Fabriduct's flexibility allows us to manufacture ducts to meet your exact specifications and needs. These powerful performers offer the HVAC industry day-in/day-out service.
The 14, 16 or 18 gauge Pittsburgh Lock machines have 7 forming stations with 2 forming positions. One position forms the Pittsburgh Lock, while an auxiliary or outboard position has the ability of forming 1 of 8 profiles depending on the contractor's needs. The Vertical Seam Closer uses an automated system which eliminates hammering to close ductwork seams. It greatly reduces noise levels and speeds up duct seam closing at the job site.